Morphological analysis of the Kurdish legend "Tomatin and Narina Gulbarin" Based on the theory of Vladimir Propp
Keywords:
structuralism, morphology, function, Kurdish legends, Narina Gulbarin
Abstract
Structuralists, in the last century, have sought to obtain narrative maps and specific narrative patterns that can be used to examine folk tales, fairy tales, and legends of nations. After a lot of effort and presentation of various models, among them, Vladimir Propp was able to discover and present a diagram and model by analyzing a hundred Russian fairy tales and legends, which can be used to describe most of the folk tales and stories. Russian and even world fairies were adapted to it. This model and method attracted the attention of many researchers and became the basis of many investigations and researches after him. The story collection Narina Gulbarin is one of the Kurdish folk works that contains ten stories. In this article, an attempt has been made to apply Vladimir Propp's autobiography diagram and his morphological model to the story "Tomatin and Narin Golbarin", which is one of the stories in this collection, in order to determine how Propp's theory is applicable to this story. After the analysis of this story, it was found that the method and pattern of the prop are generally consistent with the diagram of the actions of this story. What is certain is that this legend is consistent with Propp's method and model, and a large number of actions. The actions in the mentioned story are identical to Propp's morphological model. And the main goal of this article is, the adaptation of the prop's pattern to prove that it is applicable to the legend of "Tomatin and Narina Gulbarin". Another goal of this research is to make more students and researchers familiar with this book and its collection of legends.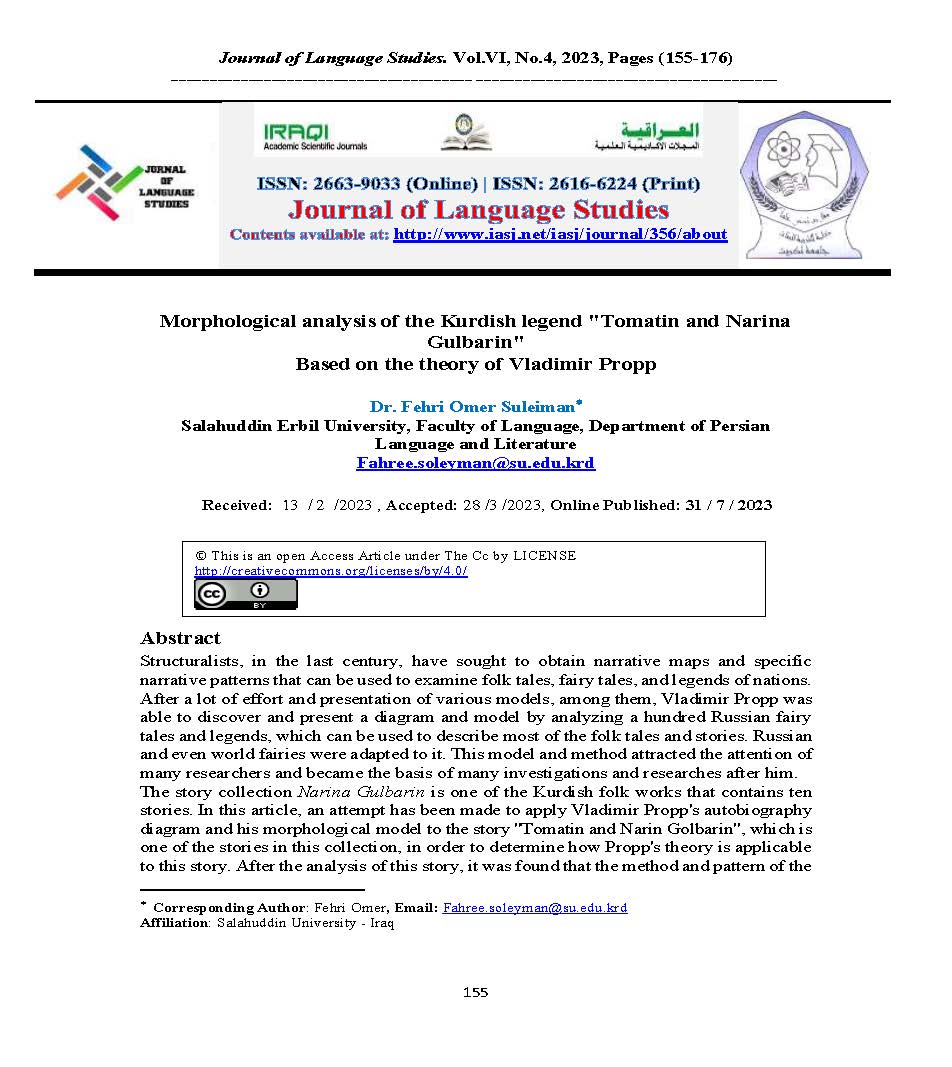 Downloads